Using TeamViewer for Remote Access and Support
TeamViewer is a powerful software that enables remote access and support between computers, allowing users to control and manage a computer from a different location. Whether you are a business professional needing to assist clients or a remote worker requiring access to your office computer, TeamViewer provides a secure and efficient solution. In this article, we will guide you through the process of using TeamViewer and explore its various features.
Getting Started with TeamViewer
Before we dive into the details of using TeamViewer, let's start with the basic steps to get started:
Download and install TeamViewer on both the local and remote computers. You can find the latest version of TeamViewer on their official website.
Launch the application on both computers.
On the remote computer, provide your partner with the ID and password displayed on your TeamViewer window. This information is necessary for establishing a connection.
On the local computer, enter the partner's ID into the "Partner ID" field and click the "Connect" button.
Once the connection is established, you will be able to view and control the remote computer as if you were sitting in front of it.
Exploring TeamViewer's Features
TeamViewer offers a wide range of features that enhance the remote access and support experience. Let's take a look at some of its key features:
1. File Transfer
TeamViewer allows you to transfer files between the local and remote computers with ease. Whether you need to send important documents or receive files from a remote computer, the file transfer feature ensures seamless data exchange. Simply drag and drop the files between the TeamViewer windows to initiate the transfer.
2. Remote Printing
With TeamViewer, you can print documents or images from a remote computer to a local printer. This feature is extremely useful when you need to access printer resources that are physically connected to the local computer. Simply select the document or image you want to print on the remote computer and choose the local printer as the printing destination.
3. Remote Reboot
If the remote computer encounters any issues or requires a reboot, you can perform a remote reboot using TeamViewer. This eliminates the need for physical access to the computer and allows you to restart or shut down the remote computer as required.
4. Voice and Video Calls
TeamViewer enables voice and video calls between the local and remote computers, allowing you to communicate effectively during a remote support session. This feature is particularly useful when you need to provide step-by-step instructions or discuss complex issues with the remote user.
5. Virtual Meetings
TeamViewer offers a virtual meeting feature that allows multiple participants to collaborate and share screens simultaneously. Whether you need to conduct a business meeting, deliver a presentation, or brainstorm ideas, the virtual meetings feature provides a platform for effective communication and collaboration.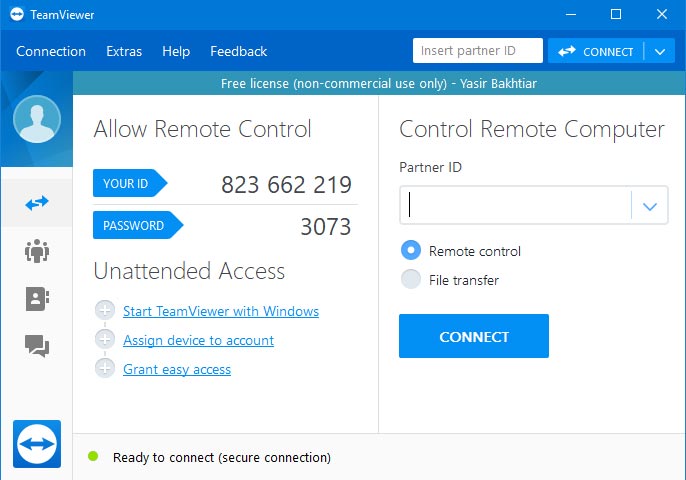 Frequently Asked Questions
Q1: Is TeamViewer free to use?
A1: Yes, TeamViewer offers a free version for personal and non-commercial use. However, if you require advanced features or use TeamViewer for commercial purposes, you may need to purchase a license.
Q2: Is TeamViewer secure?
A2: TeamViewer employs industry-standard security measures to ensure the safety and privacy of your remote sessions. The software uses end-to-end encryption and offers options for two-factor authentication, access control, and secure passwords.
Watch a Video Tutorial
We hope this article has provided you with a comprehensive understanding of how to use TeamViewer for remote access and support. Whether you are a business professional or someone who needs to access their home computer remotely, TeamViewer offers a reliable and secure solution. If you have any further questions or need assistance, feel free to reach out to our support team. Happy remote controlling!
Note: Please replace VIDEO_ID in the YouTube embed code with the actual ID of the video you want to display.